Ayala Millennium Styling Unit
The Millennium is a beautifully designed styling unit and is one of the more finer crafted pieces of furniture by Ayala. The Unit comes with a stunning chiseled frame, finished in a timeless elegant gold colour. With a classic look and amazing attention to detail this unit brings class to any establishment it becomes a part of.
Ayala furniture is made to order, delivery will be approximately 6-8 weeks.
Dimensions: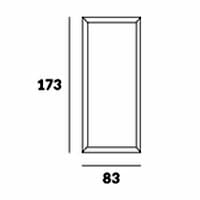 Save