BARBER POLE

A Barber Pole is instantly recognisable on the high street. Traditional, eye catching Barbers Poles are a great way attract passing trade and advertise your barber shop above the crowds of potential customers in a busy street. As an interesting bit of trivia, you may have wondered why barbers poles are red, white and blue? As you might imagine, these barbers products have a bloody history… The colors are actually a legacy of long-gone era when people went to barbers not just for a haircut or shave but also for bloodletting and other medical procedures! These distinctive items of salon furniture are available as revolving or static, illuminated or non-illuminated.range below or call the Direct Salon Furniture help team on 01270 630280 to discuss the available options.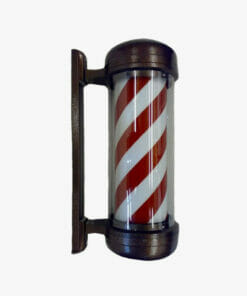 Out of stock
PLEASE EMAIL FOR DELIVERY DATES Traditionally finished in hammered Antique Copper and is ready for exterior use.
---
We have been supplying barbers poles as well as many other items of
barbers furniture
since 2005 to salon owners and barber shops. Browse our range!