Ayala Opal Styling Unit
The Ayala Opal is a contemporary, well designed styling unit, fashioned with a unique shape.  It features stunning, built-in back lighting, which brings a feel of glamour and class to any salon. The unit comes finished in an elegant, scratch-resistant white frame.
Ayala furniture is made to order, delivery will be approximately 3-4 weeks.
Dimensions: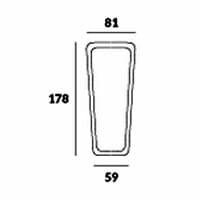 Save