Ayala Rialto Reception Desk
The Rialto is a high quality Ayala reception desk with a strong design and ample storage. It features 6 compartments at the rear of the unit and a large flat counter top. The Rialto comes complete with a perspex panel on the front, fitted with a back-light which could be used for displaying a business name or logo. The reception desk features a two tone colour design which is made to order in any combination of Ayala laminates.
Please use the drop down boxes to select your laminate colours.
*Gloss Laminates will incur an additional cost.
Ayala furniture is made to order, delivery will be approximately 6-8 weeks.
Dimensions: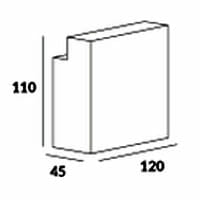 Ayala Laminate Colours: