Ayala Wega Styling Unit
The Ayala Wega is a beautifully crafted styling unit, made to a high standard and finished using quality materials. The unit features an integrated shelf and a built-in chromed footrest for better comfort and convenience. The Wega comes in a wide range of Ayala laminate colours and is available in either a single colour or two tone colour design (as shown in image).
Please use the drop down boxes to select your Ayala laminate colours.
Ayala furniture is made to order, delivery will be approximately 3-4 weeks.
Main colour – shelf and middle section
Secondary colour – outer section
Dimensions: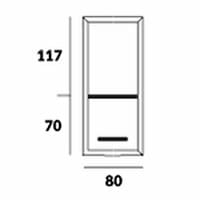 *Please note - Reproduction of colours may vary. **Please ring to request a free sample to be sent in the post.
Save