Mila Color Reception Desk
The Mila Color Reception Desk is a modern, functional reception desk that has a beautifully designed acrylic front with illuminated top bar. It features one main shelf, two drawers, two cupboards, a sliding keyboard shelf, and open shelf storage. The desk is available in a selection of laminate finishes. Please choose your laminate colour by selecting from the drop down box.
Please note, gloss laminate colours will incur an additional charge. 
Dimensions: Height 110cm, Width 120cm, Depth 45cm.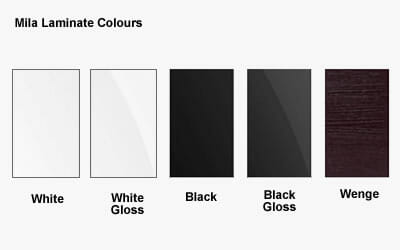 The MILA company was founded in Warsaw, Poland. It has been created out of passion, commitment and will to provide the customers with perfect quality and sense of comfort. The company has been built on professional knowledge and many years of experience in the salon equipment market.
The MILA brand is designed according to modern standards. It is destined to bring the feeling of beauty as well as functionality and long-term usability. At the same time the main idea of this brand is to provide long-lasting satisfaction to the customers.
Mila furniture is a complex range of equipment made with a use of the latest technologies. (i.e. roto-moulding) which gives us the certainty of its durability and reliability.
Here at Direct Salon Furniture we are able to arrange direct deliveries to your salon door. In the unlikely event that you experience a problem with your Mila products our experienced field personnel will be there to assist you.