Mila Selene Wall Styling Unit
Mila Selene Wall Styling Unit has an integrated footrests, large storage area and has a twin electrical socket. The wall unit lets you use space in the most efficient way. It has storage space behind the mirror to store your everyday salon products and tools or this space can be used to make an attractive retail display for customers to browse. The unit can be finished in a choice of laminates. Please choose your laminate by selecting from the drop down box.
Please note, gloss black and gloss white laminate colours will incur an additional charge.
Dimensions: Full Height 192cm, Height to Shelf 80cm, Width 70cm, Depth 29cm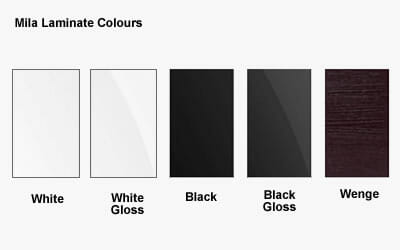 The MILA company was founded in Warsaw, Poland. It has been created out of passion, commitment and will to provide the customers with perfect quality and sense of comfort. The company has been built on professional knowledge and many years of experience in the salon equipment market.
The MILA brand is designed according to modern standards. It is destined to bring the feeling of beauty as well as functionality and long-term usability. At the same time the main idea of this brand is to provide long-lasting satisfaction to the customers.
Mila furniture is a complex range of equipment made with a use of the latest technologies. (i.e. roto-moulding) which gives us the certainty of its durability and reliability.