Nelson Mobilier Barbizon Styling Chair
The Barbizon Styling Chair is a high fashion styling chair with a contemporary shape which looks great in modern salons. The Barbizon is durable and easily cleaned thanks to the open style structure of the seat.
The seat is available in a wide selection of Nelson Mobilier colours, helping you create your perfect look. Choose from a single or dual colour scheme – Colour key at bottom of page. (Please call email info@directsalonsupplies.co.uk if you would like any upholstery colour sample posted to you.)
The Barbizon is available with a number of Hydraulic base options. Select from a choice of square, round or 5 star.
Please use the drop down boxes to select your upholstery colours and base option.
Please allow 3 – 4 weeks for delivery.
*Please note - Reproduction of colours may vary. **Please ring to request a free sample to be sent in the post.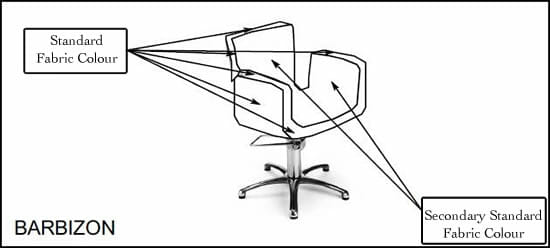 Chair Dimensions (mm):