WBX Ascot Saddle Stool
WBX Ascot Saddle Stool's shape combined with its unique mechanism allows the stylist or operator to move forwards and backwards freely and with the push of a lever lock the saddle in any desired position whilst the second lever adjusts the seat height. When sat on the stool, your pelvis is in a near neutral position which allows your spinal curves to balance more easily in proper alignment and reduces muscle strain.
The Ascot Saddle Stool maintains your correct lumbar curve naturally, preventing any back discomfort. The stool promotes good arm and hand control which is especially beneficial whilst cutting and styling hair, furthermore it improves circulation and encourages correct posture and mobility.
Over the last few years, customers have been telling us that since they have been using the Ascot, their general well being has improved immensely saying that their upper arm and wrist aches have been significantly reduced, their posture is so much better and they are no longer suffering from tired legs after a busy day in the salon.
PLEASE NOTE THE WBX WHEELS HAVE BEEN UPGRADED ON THE ASCOT STOOLS.
WBX Ascot Saddle Stool Options
The stool is available in 3 different gas lift heights
Standard Height – Min 21″ – Max 28″
High – Min 25″ – Max 33″
Extra High – Min 28″ – Max 39″
Please remember when ordering your Ascot it is important to choose the right range of seat height adjustability. The height of the stool cylinder can significantly impact your seated posture and musculoskeletal health. So it is important to sit on the stool where your knees are lower than your hips.
The stool can also come with an Optional footring. The WBX Ascot Saddle Stool 5 star base is a solid die cast aluminium base, cast in one piece which is then highly polished on the top and powder coated black on the underside. There are no weld or seems to crack or break. The solid alloy base can never rust even if it was to be submersed in water for its entire working life.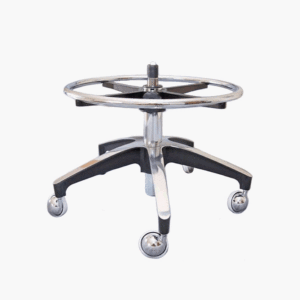 The WBX Ascot Saddle Stool comes with 5 year structural guarantee.
-Dimensions: Seat width 36cm, Seat Depth 60cm, Base Width 60cm.
-Weight: 8.5 kg.

Save