SALON SIGNS & BARBERS POLES

Salon Signs are an effective way to attract customers to your business. In a crowded high street you stand out to take advantage of electronic signage or a distinctive barbers pole to gain the attention of passing trade, so don't be shy, invest in eye-catching LED salon signage and let your potential customers know you are open for business. LED signage is a great low-energy choice for advertising your salon and is available in both static and moving variants; in a range of colours. Browse our signage range below or call the Direct Salon Supplies help team on 01270 630280 to discuss the available options.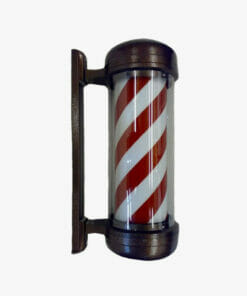 Out of stock
PLEASE EMAIL FOR DELIVERY DATES Traditionally finished in hammered Antique Copper and is ready for exterior use.